Get Charged!
How does a road trip from Singapore to Thailand, in a fully electric vehicle (EV) sound to you?
Think it's just about human and machine endurance? Think otherwise, we got an SGDrivers member that recently made this happen! And here's his story:
Meet Leon, an Electric Vehicle (EV) enthusiast, and owner of a TESLA Model 3 Standard Range Plus. He is also a member of Tesla La Kopi Singapore (TLKP), a Singapore Tesla Owners led community. The best part, he is the first TESLA owner from Singapore who drove to Thailand.
Singapore to Thailand and back! What's the big deal?
You're right, maybe for a typical Internal Combustion Engine (ICE) where gasoline is easily accessible and quickly refillable.
But, what about an EV when it works very differently? It doesn't run on gasoline, instead, it's powered by electricity stored within the vehicle's batteries. Therefore, depleted batteries need to be recharged at an EV charging station and the charging duration depends on the EV chargers' availability & power output.
Aside from the negative thoughts of an EV travelling in Malaysia, people around Leon were already incredulous when he signalled his intention to purchase an EV as his next car. People often cite reasons such as: "lack of charging infrastructure", "no market presence", "expensive replacements and repairs", "easily damaged & combustible batteries" and of course, other "hear-says".
Despite the knock-back on EVs, Leon still went ahead and made the purchase with certainty that he will share his experience & clear the doubts about EV ownership. Hence, he took one step ahead and drove it up to Thailand with his newly purchased EV.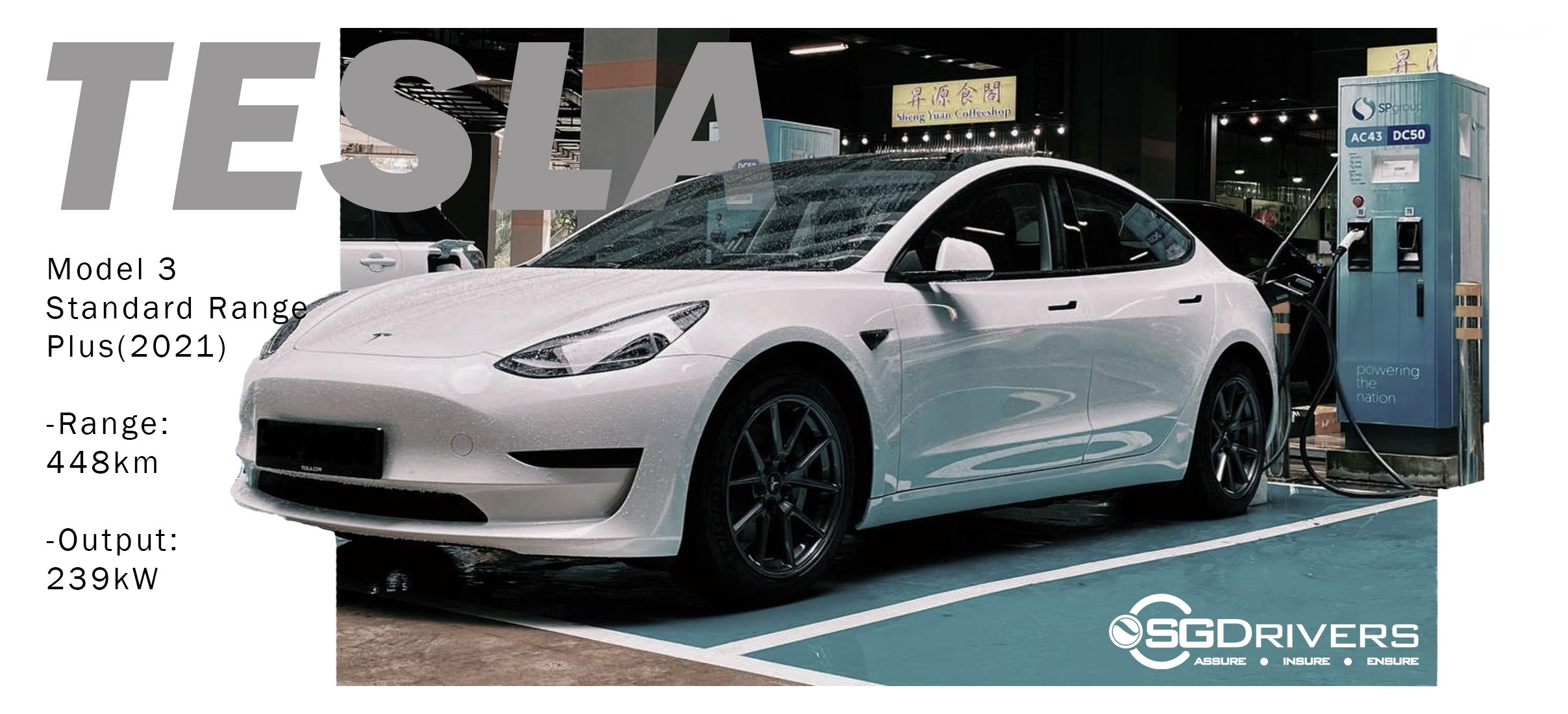 ELECTRIFYING TIPS!
In Singapore, locating EV charging stations are getting easier by the day! As of April 2021, there were already >430 SP Group Chargers & >85 Shell Recharge Chargers.
Find out more:
In 2022, newer players such as Charge+, Juice+, LHN Parking (Plugit Cloud), CDG ENGIE, City Energy Go entered the EV charging ecosystem in Singapore. Locate your nearest charging station by downloading PlugShare, a community-driven EV charging station and trip planner app.
WAIT! Plan first..!
There's a saying: If you fail to plan, you plan to fail. Before you decided to embark on an EV drive up north, you'll need to do your "homework" and account for the charging infrastructure, facilities or stations along the way, especially in a foreign land. But, thankfully both Government & private entities in Singapore and neighbouring counties have invested in the adoption of EVs and their infrastructure.
Leon started planning ever since he collected his TESLA during the COVID-19 Pandemic when travel restrictions were still in place. He envisioned himself to be the first TESLA owner in Singaporean to cross two borders after travel restrictions were lifted. Leon is no amateur in long-distance driving, so, therefore, the usual logistic wasn't an issue. However, it made way for new attention towards a new variable; EV Charging Infrastructure.
Direct Current Fast Chargers (DCFC) can allow an average EV range to obtain an 80% state of charge (SOC) within 1 hour. Therefore, plan ahead! These fast charges are essential for a long-distance trip where time is an important element.
Leon studied and pinned the location of these fast charges along his way as he understood their importance of it. Leon is also careful and well-organized, as he assigned other nearby DCFC as a contingency plan in case option 1 fails. Now, this is where the PlugShare app comes in handy for trip planning.
Leon's Trip tips: If you are inexperienced, it's unwise to execute such trips alone. It should be done with a group of at least 2 cars.
Pin 'em down!
Here are Leon's charging locations and routines pitstops this trip.
Aside from Google Maps, mobile apps like PlugShare allow you to directly pin and navigate to the charges within the app.
North-bound.
Towards Thailand
pt 1n. DCFC Ayer Keroh North Bound Caltex JomCharge (10 Mins)

+ 14%

+ 14%

pt 2n. DCFC Nizra Building, Kuala Lumpur, Malaysia

100%

100%

pt 3n. DCFC Bukit Gantang North Bound Caltex JomCharge (10 mins)

+14%

+14%

pt 4n. DCFC Abadi Motor, Penang, Malaysia

70%

70%

pt 5n. DCFC LBI Motor, Kedah, Malaysia

100%

100%

pt 6n. DCFC EGAT, Hat Yai, Thailand

100%

100%
South-bound.
Thailand Towards Singapore
pt 1s. DCFC LBI Motor, Kedah, Malaysia

100%

100%

pt 2s. DCFC Bukit Gantang South Bound Caltex JomCharge

90%

90%

pt 3s. DCFC Nizra Building, Kuala Lumpur, Malaysia

80%

80%

pt 4s. CFC Ayer Keroh South Bound Caltex JomCharge

80%

80%

pt 5s. Back to Singapore at Tesla Supercharger

100%

100%
The above statistic displayed Leon's TESLA battery SOC after charging. Except for pt. 1n & 3n, which indicated an additional 14% charge. Tap on the location to find out more!
Leon has proven through an earlier drive that it is possible to reach Kuala Lumpur, Malaysia without any charging pitstop in his fully charged TESLA. However, due to nature's call, he had to visit the bathroom and decided to utilise this time for a 10-minute DC charge (50kW). This quick charge gave him an additional ~14%/ 58KM range.
Fun Fact: The peak power acceptance of the TESLA Model 3 Standard Range Plus is 167kW and 250kW for the performance version. Such charging speeds can only be performed on Tesla's V3 superchargers as there are currently no third-party chargers in the region capable of such high-powered charging.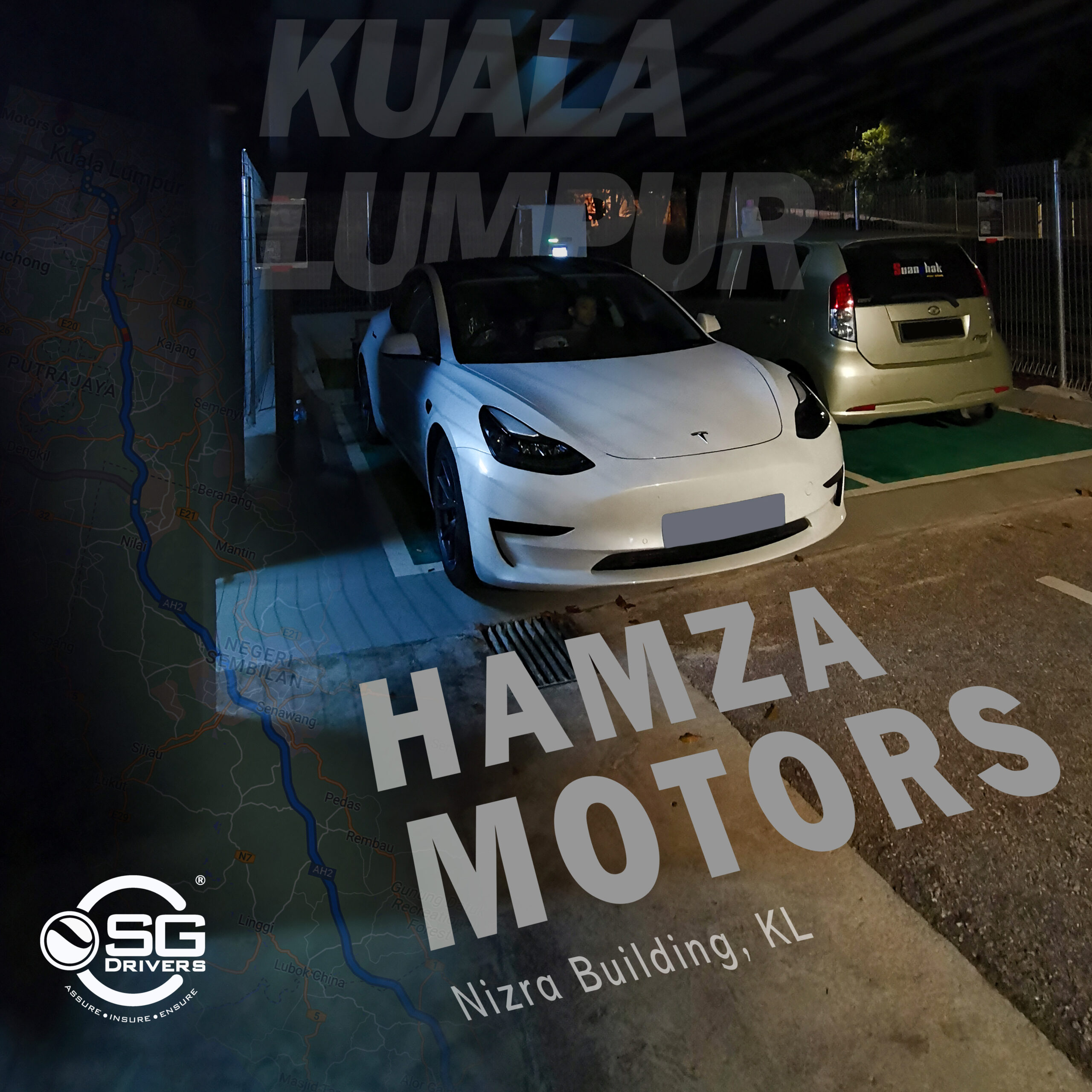 Golden Question…
Need to pay?
DCFCs in selected Caltex station requires payment to be initiated via the JomCharge app, simply add your credit card for direct debit.
However, charging at the Nizra Building was FREE, as of Jun 2022. All Leon did was to plug-in, tap START and voila! The charging starts!
This is also a good place to catch up on your meals, as there's an entire street worth of food. (Foods are not FREE.)
Crucial Points.
As of Jun 2022, DCFCs in Penang and Kedah are extremely limited in the vicinity. Leon mentioned that a malfunctioning DCFC unit could force him to charge at a much slower Alternating Current (AC) charger nearby just to continue his journey. But, thankfully the DCFC was working well during his trip.
In Penang, you could do a charge at Abadi Motor, Penang. Approach the friendly staff for permission to use the DCFC. Do note that you may need to join the queue depending on the availability of the chargers. They have an in-house Café as well as McDonald's is just around the corner. Rest, relax and grab a bite while you wait for your car to get juiced up!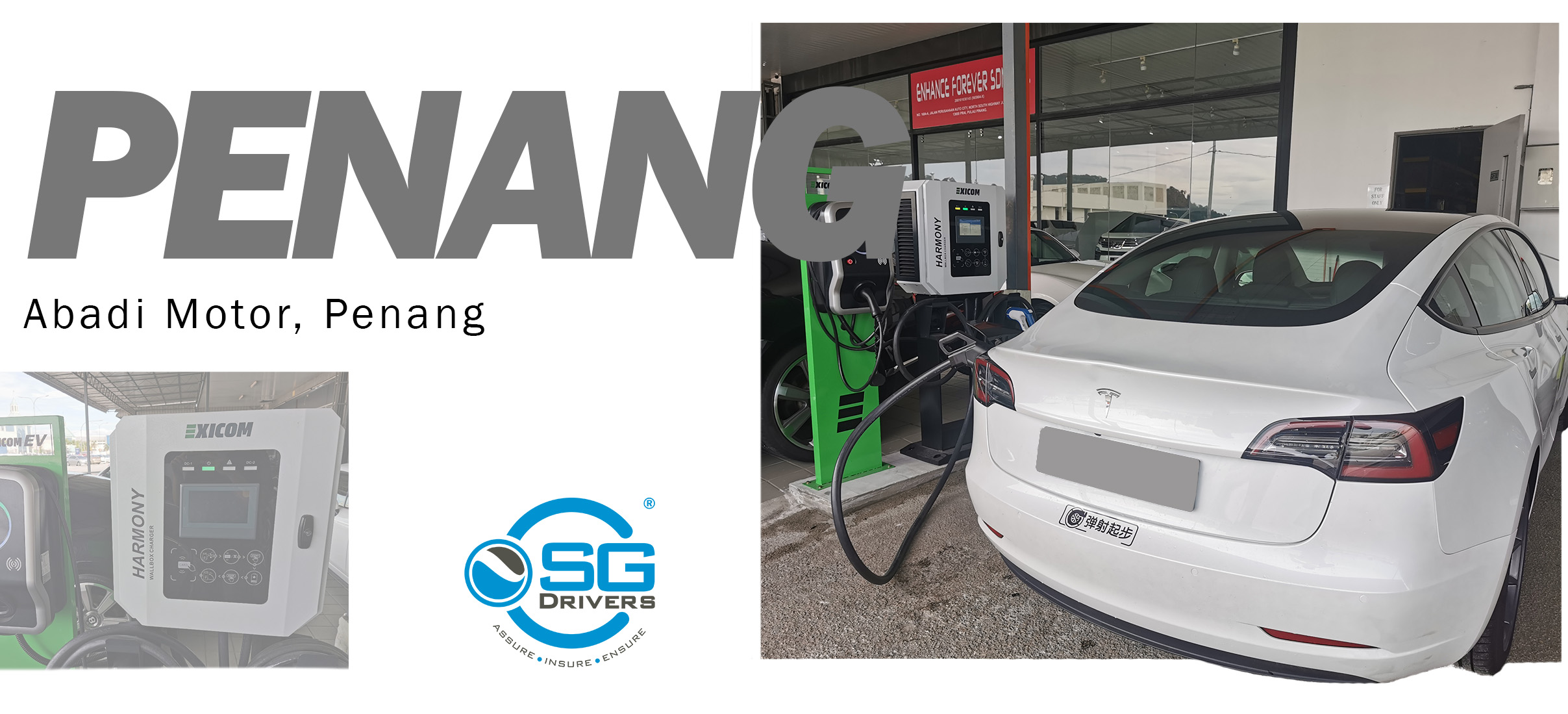 Land of Smiles!
Finally! Leon had reached the borders of Thailand! The first Tesla from Singapore that made it there, this is a huge step of achievement, hopefully, this will inspire others and build confidence in Electric vehicles.
Leon claimed that with a full charge at the Kedah, there is a high possibility you can do a round trip to Hat Yai, Thailand and back to Kedah without stopping for a charge. However, in case you need charging support in Hat Yai, Leon is kind enough to intentionally explore and share with us a DCFC operated by Electricity Generating Authority of Thailand (EGAT) supported via EleXA app.
Located Here.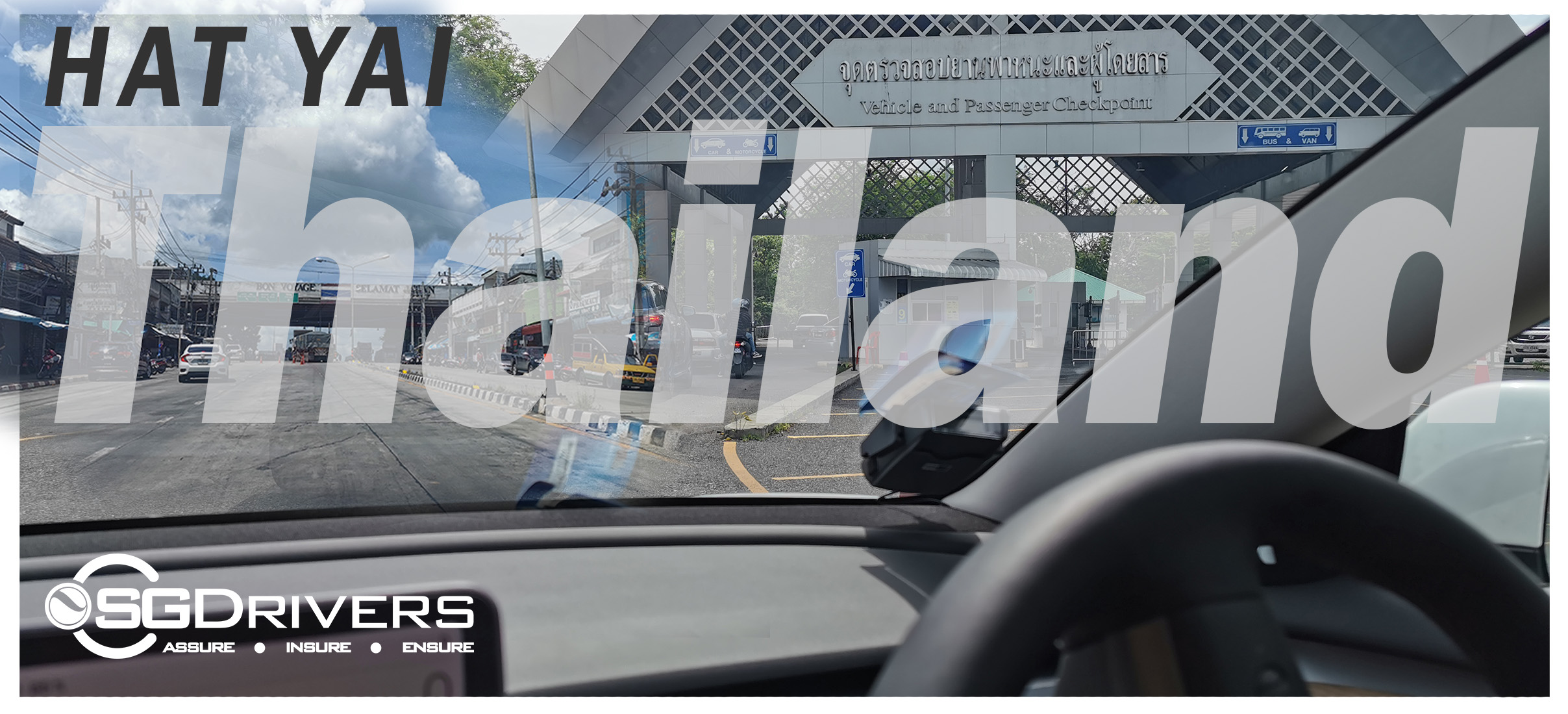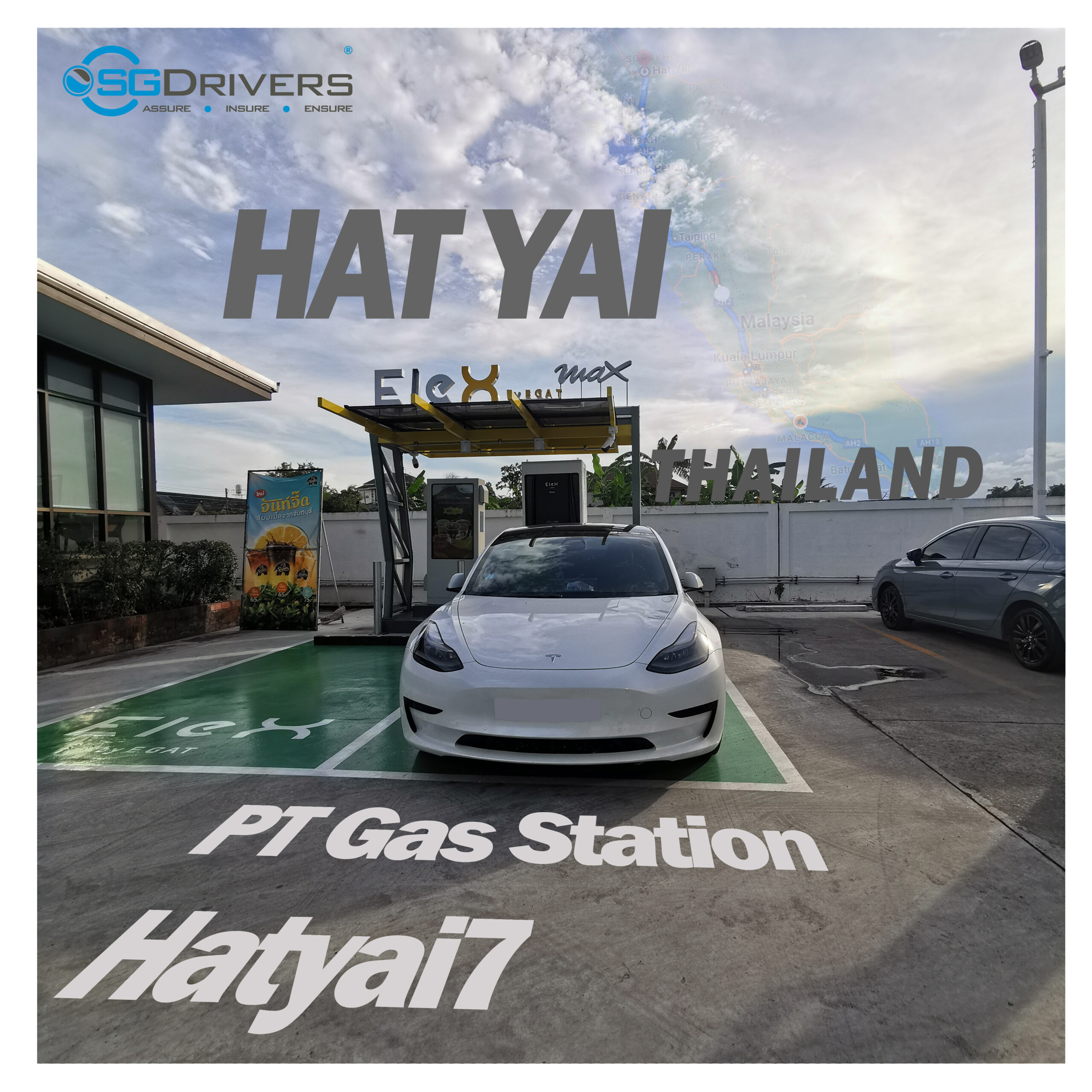 The Return
The return journey was also smooth as Leon steadily make his way back to Singapore using the south-bound highway and its chargers.
 "It is heartening to see EV charging infrastructure being developed and deployed across Malaysia. The adoption of EVs must be backed by sound and sustainable charging solutions. " Leon mentioned.
As an EV enthusiast, Leon looks forward to exponential growth in both EV ownership and EV related industries.
The Future
Industry leaders such as Shell, intend to deploy 12 charging stations in 6 locations along the North-South Highway (NSH) with 1, Shell Hentian Tangkak Selatan Layby South Bound, already deployed and operational.
Trip Date: 13 to 21 May 2022
Publish Date: 10 Jun 2022
This article is sponsored by SGDrivers along with the support of B.Charged & Leon, an SGDrivers member.